Home Modifications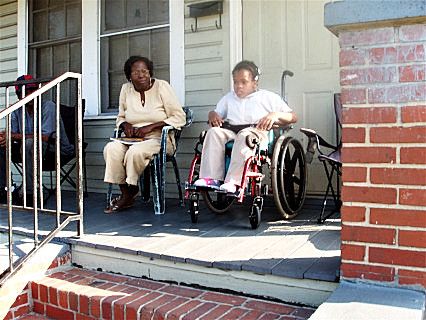 Family Support is dedicated to enhancing and enriching the lives of Alabama residents with disabilities by making their homes more accessible through our home modification program. With disability comes disruption to an adult's or child's life. Family Support's home modification program helps citizens with disabilities make necessary modifications to their home like putting in free wheelchair ramps, enlarging doorways, remodeling bathrooms and making other critical repairs
Wheelchair ramp project

After the initial evaluation, the design is completed, the permits are secured, and supplies are purchased then the volunteers get started with supervision. Here is a group that has completed a complex ramp wrapping around the home.

Greater safety is offered by a well-constructed wheelchair ramp. In an emergency, it is often the only way to get out fast. In addition, participation in community life is expanded by this new accessibility. Sometimes, after an accident, individuals may not be released from the hospital due to the inability to get into their house or apartment. The ramp is often a critical feature, necessary for everyday tasks.

House painting and repair project

Often an individual with a disability is unable to keep up with the regular maintenance of their home. Volunteers from M-Fuge have worked with Family Support for many years helping families in the Greater Mobile Area. Here a volunteer team is painting a home and replacing wood damaged by termites along with fixing broken windows. While this is being done, others in the team may be doing yard clean up.

A roll-in shower project

Frequently, as a child grows, it becomes impossible to easily pick them and place them in a bathtub. This roll-in shower just does the trick even in a mobile home. Family Support through the Individual & Family Support Program is helping families with these types of challenges.