Home Modifications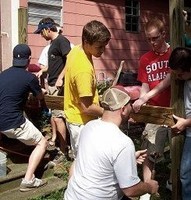 Family Support is dedicated to enhancing and enriching the lives of Alabama residents with disabilities by making their homes more accessible through our home modification program.
With disability comes disruption to an adult's or child's life. Family Support's home modification program helps citizens with disabilities make necessary modifications to their home like putting in free wheelchair ramps, enlarging doorways, remodeling bathrooms and making other critical repairs.
Learn more about Family Support's services to the community.
---